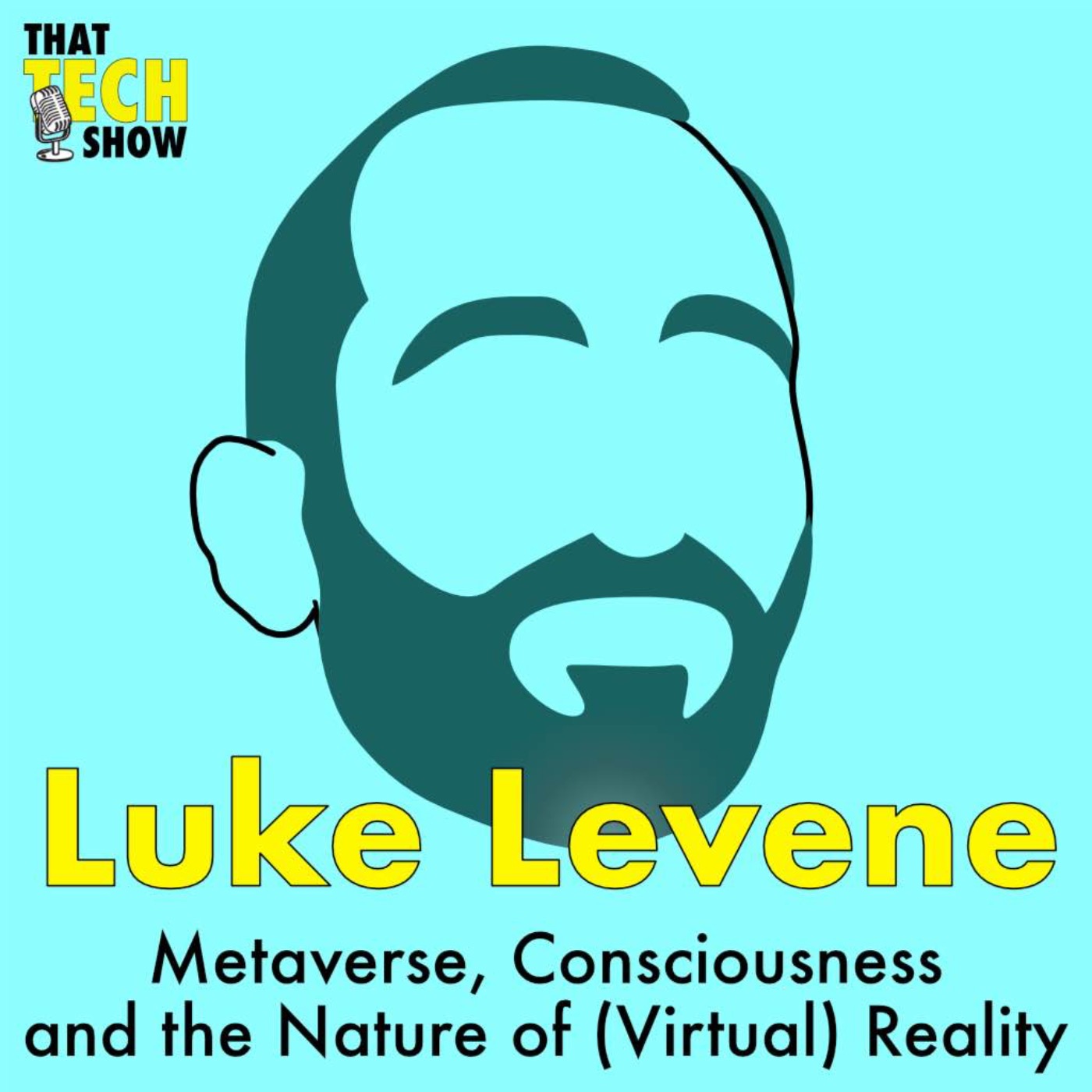 Available where all good podcasts are downloaded
Episode 41 - Metaverse, Consciousness and the Nature of (Virtual) Reality with Luke Levene
Published: 2021-11-25
Luke started life as a professional animator and found a passion for developing immersive theatre - he's now using his skills to imagine our future reality as we run head-on into the Virtual Reality space. Now, this is a bit different to our usual episodes, so strap in and prepare to go on adventure with Luke on how his approach to life has allowed him to follow his instincts which has lead him to the world of VR.
Edited by: Simon Hoerner
Produced by: Samuel Gregory and Chris Addams
Theme Music by: Chris Addams
Sponsored by: Jupiter and the Giraffe
Website: https://thattech.show
YouTube: https://www.youtube.com/channel/UC4paazkqrlwtB_WW28w4Gsg
Instagram: @thattechshow_
Twitch: https://twitch.tv/thattechshow
TikTok: @thattechshow
Patreon: @thattechshow
LinkedIn: linkedin.com/company/thattechshow/
Get in touch: hello@thattech.show
---
Hosted on Acast. See acast.com/privacy for more information.
Episode Transcript
Notice an Error? Our transcripts are automatically generated. If you notice something offensive,
please let us know!
00:00
Luke
Hi, I'm Luke I'm in an AR and VR XR evangelists. Open up new markets for innovation technologies as one of the first movers in the VR AR space back in 2014, when Facebook first purchased the office. 

00:15
Samuel
Nice. We were just talking now about kind of where you've come from and how this is all come around. Cause I mean, the metaverse now is such a huge topic and everyone's very excited around it and it'd be great to kind of get into all that, but where does your experience stem from and how did you get into this? Because VR is fairly new. The concept and idea has been part of Spotify for God knows how many years, but where did, where do you stem from that? 

00:42
Luke
My background is animation, so I trained as a traditional animator. I worked in the animations for several years. I would be called a multi-disciplinary and the animation fiddly screen really means I've worked in 2d hand-drawn animation, 3d stop motion effects and across the board from traditional animation series as to music, videos and commercials to working on some motion pictures. Like preparing some stuff for them, but it was, I worked for big NBC who were a big VFX company. 

01:19
Samuel
So it's hand drawn. 

01:21
Luke
Animation hand drawn was my training. I was also a concept artist for awhile. So, you kind of, there's a kind of, there's a roadmap to kind of animation. People graduate, they usually start off as a storyboard artist or a, or if you go into pure animation, you actually do a cleanup sell. So, the old school Disney animation would, that'd be the animator, the main guy. As even in between our guy who draws the frames and between the key animations cause the, this like the chef and sous chef, or Hey, the in-between there is basically filling in the timing between the key poses of what kind of drive the scene and then the, in between the carries the movement from point a to point B Quincy. There's a guy that will do the cleanup, which is find the perfect line within the rough drawing. Someone like Glen Keane is an amazing animator. 

02:15
Luke
He's the guy who would have had to make the tos on. Many of the kind of favorite characters that Disney did in the nineties and Glen Keane went off to be, to do his own stuff, but he's like the 2d Jedi legend. I knew you would have once you see Glen Gene's work and he does stuff and the like, you recognize it immediately. Cause you're just like, wow, because everything, life like breathe life into the drawings, but his drawings is super rough and he'll do like one key head is like...