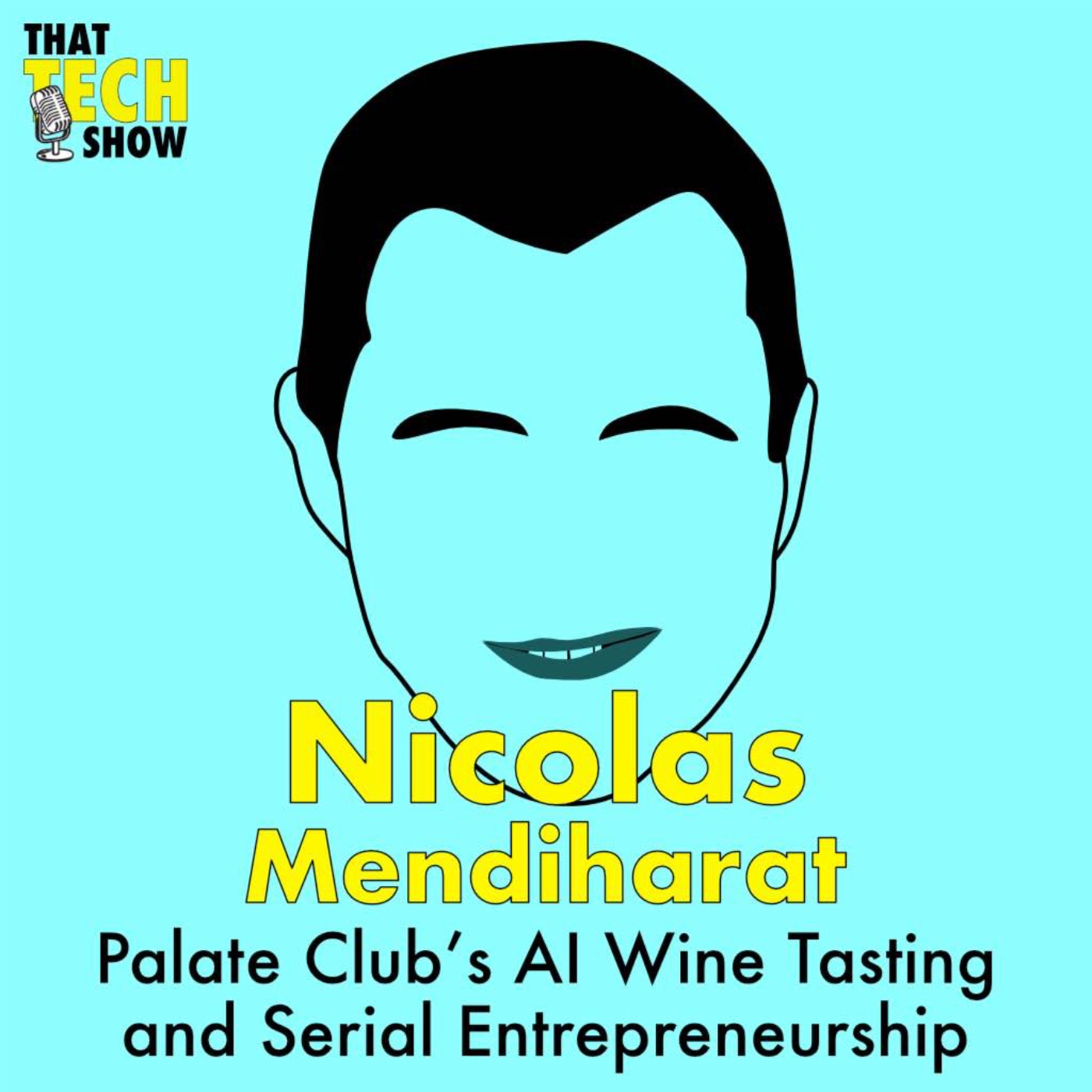 Available where all good podcasts are downloaded
Episode 42 - Palate Club's AI Wine Tasting and Serial Entrepreneurship with Nicolas Mendiharat
Published: 2021-12-02
Today on the show we have serial entrepreneur Nicholas Mendiharat, who is the founder of Palate Club, which is a start-up that is aiming to demystify the world of wine, using artificial intelligence and blind taste tests to build customers taste profiles.
This is a hugely interesting business model with massive potential. There's so much to explore in this episode, as we dive into using data science to first define taste and then choose wines that match.
Edited by: Simon Hoerner
Produced by: Samuel Gregory and Chris Addams
Theme Music by: Chris Addams
Sponsored by: Jupiter and the Giraffe
Website: https://thattech.show
YouTube: https://www.youtube.com/channel/UC4paazkqrlwtB_WW28w4Gsg
Instagram: @thattechshow_
Twitch: https://twitch.tv/thattechshow
TikTok: @thattechshow
Patreon: @thattechshow
LinkedIn: linkedin.com/company/thattechshow/
Get in touch: hello@thattech.show
---
Hosted on Acast. See acast.com/privacy for more information.
Episode Transcript
Notice an Error? Our transcripts are automatically generated. If you notice something offensive,
please let us know!
06:14
Nicholas
The founder and CEO of palette club, which is a new platform created around your taste using artificial intelligence to match the best wines and premium foods to your personal tastes. We use 200 traits found in tasting wine to make calculations and algorithms to figure out your personal taste. 

06:41
Chris
Let's get into that, like AI and taste. How did you get into that? 

06:45
Nicholas
Well, when I moved to California six years ago, as a Frenchman, I stopped, I knew a lot about wine as you could expect from French people. I suddenly was lost in front of the shelf. It's like an idiot in front of, the wines from all over the world. I figured that's actually a main problem in the wine industry in general. Since I built quite a lot of e-commerce companies and data science related recommendation engines in the past, I asked a bunch of mathematicians, data scientists, and wine experts. If we could come up with a real model where we would solve the problem of choice and, in France, for instance, to start there, French people drink French wines and Italian people drink Italian wines. You have a limited selection in the U S of those. At the same time, you have wines from all over the world, literally a million different bottles in the world. 

07:43
Nicholas
Just in the U S alone, 225,000. I find that the TTB every year. Even if you're a professional summit liaise, I work with they taste max like four or 5,000 bottles a year. Even if you're a pro and you do some blind tasting, you're just going to get very often wrong or not really know about every seat. The other reason why I figured that it was a main problem is distribution and supply chain in the U S because you have that St Joe's system have a lot of middleman. It's basically a product pushed industry, which means in the end on the shelf, the wines, which are decided by all the people done so upon, the best margin for them and not necessarily about what's the best value for you. It should look at it as an industry on the whole, it's a very large $360 billion industry in the world. 

08:38
Nicholas
It's also the most fragmented of that size, where in the end, if you accumulate the fact that the distribution is not driven by your personal interests and the sale is never about your taste, or it's really hard to figure out actually your taste and particularly the guide setting, bind to you, that is actually a very, it's very hard to get the good value. Basically, I would say 90% of the cases, even when you think, or you going to go for that cab or Sharnay, they're not making a good deal....