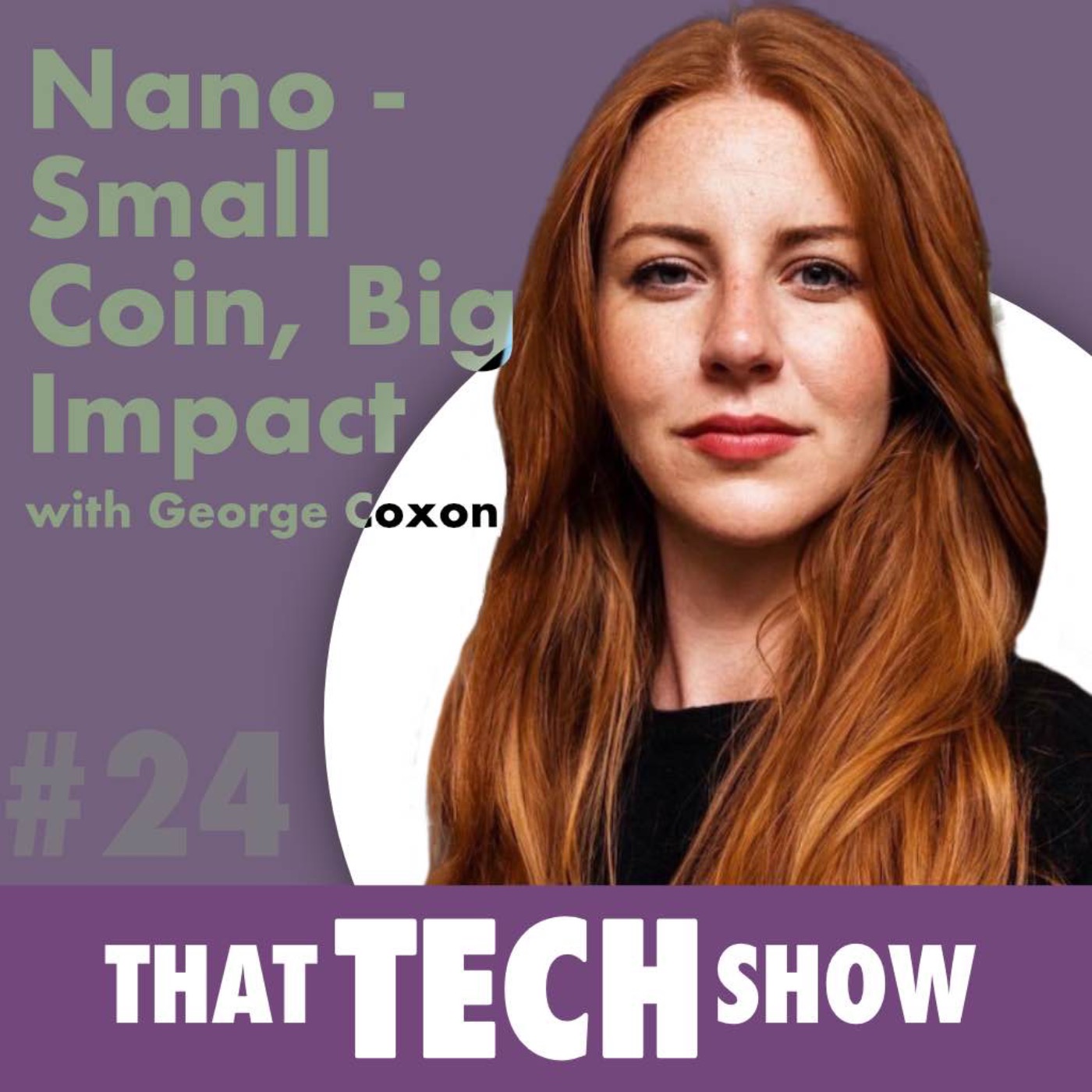 Available where all good podcasts are downloaded
Episode 24 - Nano - Small Coin, Big Impact with George Coxon
Director of Nano Foundation and Advisor to the Global BlockChain Initiative
Published: 2021-07-27
Crypto
Cryptocurrency
Bitcoin
Ethereum
Women in Tech
Blockchain
George Coxon is the director of Nano Foundation and an advisor to the Global BlockChain Initiative. Nano is a super-fast, environmentally friendly, community-first cryptocurrency with a bright future. In this episode, we talk all about Nano and why it's so different, what we wanted to be when we grew up and the difficulties George has experienced being a woman in tech, and what she's doing to help change it by speaking at schools and Judging at Rising Women in Crypto.
Edited by: Simon Hoerner
Produced by: Samuel Gregory and Chris Addams
Theme Music by: Chris Addams
Sponsored by: Jupiter and the Giraffe
Website: https://thattech.show
YouTube: https://www.youtube.com/channel/UC4paazkqrlwtB_WW28w4Gsg
Instagram: @thattechshow_
Twitch: https://twitch.tv/thattechshow
TikTok: @thattechshow
Patreon: @thattechshow
LinkedIn: linkedin.com/company/thattechshow/
Get intouch: hello@thattech.show
---
Hosted on Acast. See acast.com/privacy for more information.
You might also enjoy...
Episode Transcript
Notice an Error? Our transcripts are automatically generated. If you notice something offensive,
please let us know!
My name is George Coxon and I am director of a Nano foundation and director of Appia

Cool. Well thank you for being on the show, George, it's a pleasure to speak to you. I think this all started because we got in touch with each other via LinkedIn as well. Mostly because we, I mean, Sam and I are pretty obsessed with crypto. We talk about it on our new show on a weekly basis. It's really a pleasure to have somebody on the show who might be able to give us more insight into what it's like actually on the other side, inside a currency. I'd love to know more about your background, but perhaps let's start with Nano. So what is Nano exactly?

So Nano is a sustainable digital currency with ultra fast transactions and zero fees. If it's a centralized secure network. Just like cash in your pocket, Nano is digital money. Simple as that. 

You've done that before. 

How can you tell? 

I was interested to learn more about Nano because I think one of the, certainly a lot of benefits in comparison to something like Bitcoin, because there certainly seems to be a lot of comparisons out there. You obviously have a subreddit as well, which were talking about just as you, as we joined the podcast and were setting up. So, I mean, that's going particularly well. You have a very vibrant community. Can you talk to us about the benefits, the differences between Bitcoin versus Nano? 

Yeah, so, I mean, Nano was initially designed, having been watching. I, our found a column had watched a Bitcoin and been very excited about the possibility of digital money. Obviously Bitcoin was the vehicle towards the kind of the weld understanding the potential of digital money in that realm. Unfortunately with Bitcoin as kind of a first mover and shaker, and the space has some problems when it comes to being actual digital money and digital cash, whether that's speed fees and energy consumption. That's something that we tried to fix with Nano is making a green, sustainable currency with zero fees and instantaneous transactions. Instead of waiting an hour for a Bitcoin transaction, you are now waiting on average 1.2 seconds before a transaction to be filling firms across the globe with zero fees. That's really what we're trying to do is just be a peer-to-peer digital currency where Bitcoin is more of a store of value. 

I think these days due to the time and fees and bolt. 

So, there's a lot of stuff going on right now about Bitcoin and it's been really popular, I guess for the first half of the year, there's been a huge rise in its popularity, but certain things that have happened more recently, I've seen of a decline. I think China's just shut off like 90% of its mining, which...